Manish Rawat astrologer: hand showing physical and emotional well being.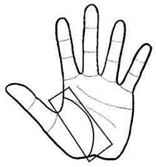 The life line in hand, generally curved; begins between the index finger and the thumb, extending towards the base of thumb and the connection to the wrist. Often inciting curiosity among people, the life line conveys different meanings based on its structure and form. Though, a common delusion surrounding the life line is that it helps predict of how long you will live. However, it actually helps reveal the information about the encounters in one's life, health, associations with others as well as physical and emotional well being.
Meaning that this line conveys varies with each hand that they are carved in. Although the study is much beyond mere one liner explanation, let's give you a sneak insight into what the basic structures of "Life line" say about you.
Long Line: It is symbolic of Good Health, Vitality, stamina and a well balance individual.
Short Line: It is a myth that a short life line means a short life. In case of a short life line, one should look closer to other signs (broken, deep, faint, etc.)
Forked Line: It has various meanings depending on fork placement on the hand. Generally forks indicate diversion or life change. They could also be symbolic of scattered or split energies.

Absent Line: Indicative of an anxious and nervous person.